Nothing is more delicious than Romeo's Pizza
Pizza lovers have described Romeo's Pizza as the most delicious they have ever tasted in Nigeria.
According to them, Romeo's pizza contains all the necessary ingredients for a perfect pizza.
They said that they are very happy that Romeo's pizza, which is an award-winning pizza company in the United States is now in Nigeria.
Blessing Ogba, a businesswoman living in Lekki said that her day and that of her family is not complete without Romeo's pizza. According to her, Romeo's pizza has the ingredients the way her family likes them.
"Romeo's pizza has become one of the constant foods in our home. A day without Romeo's pizza is not a day well spent in our home. Even my 12 years old son wants to make the outlet in Lekki his home. Romeo's pizza is like Pizza made in heaven. I appreciate the makers and wish they will continue with the standard it is now."
Speaking in the same vein, a University of Lagos student, Lara Omoigbe said that for her, pizza has become a way of life and Romeo's pizza is giving her the way she likes it. She said that she cannot imagine a day without having a bite of pizza.
Her words, "I love pizza and if eating pizza is wrong, I pray never to be right. Pizza is a very healthy food because it contains everything that you need to live a healthy life, cheese, tomatoes, veggies, chicken wings, pepperoni, all the nutrients you need to have a healthy life in the right proportion. It cannot be compared with the junk foods that people eat in fast food centers.
With Romeo's Pizza, the secret is in the sauce. Here is an offer to try out the new all cheesy pizza today! Let's serve you the handcrafted local delicious pizza.
Planning a time out at a food restaurant or date night at a food restaurant has never been easier—especially on Valentine's Day! Here is what you need to do, you could either place a call through to order online or walk into any of your favorite restaurants. And if you asked us our favorite meal to share? Pizza, of course! Luckily, Romeo's Pizza NG is offering a special kind of pizza deal just in time for February and Valentine's special. They're cheesy, delicious, and prepared with love!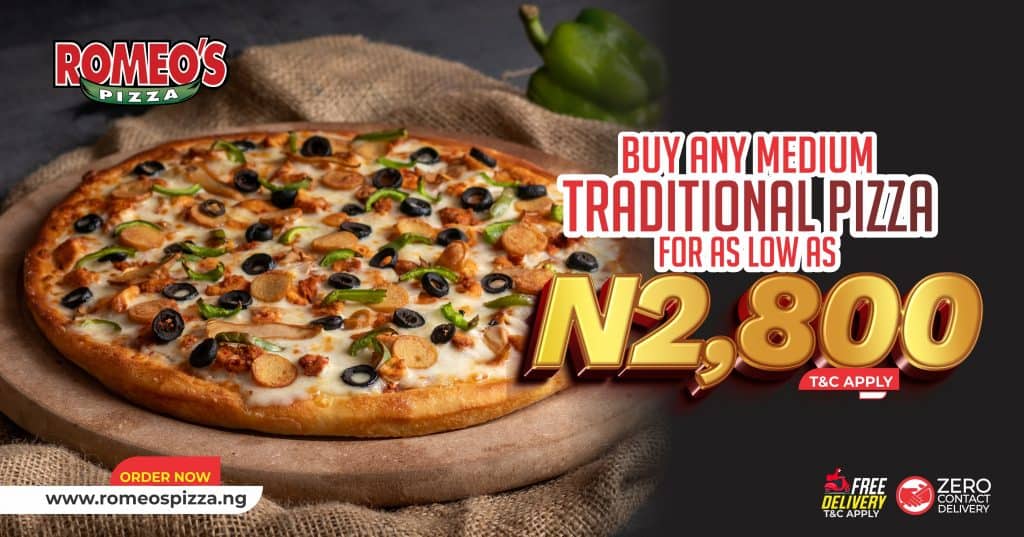 Best Valentine's Day Restaurant Deals | Best Valentine's Day Food Deals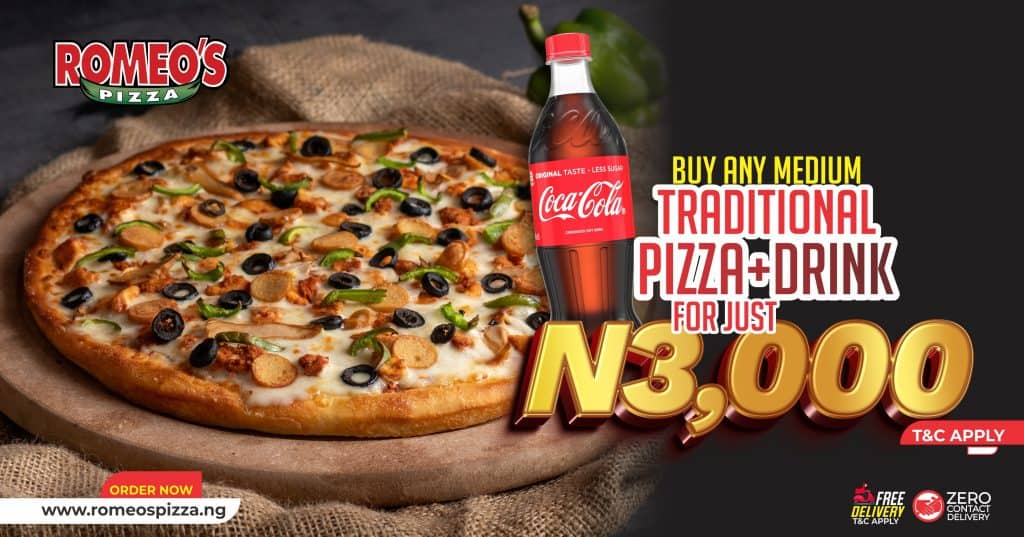 Order Now >>
Best Valentine's Day Restaurant Deals, Best Valentine's Day Food Deals, Romeos Pizza Nigeria – Pizza Delivery Near You. Pizza deals near your, Pizza Promo, Pizza Delivery Shop, Pizza near me, Pizza shop near me, order pizza online for delivery, pizza, take away, take away food, domino's, pizza delivery, pizza online, order pizza online, order pizza, order pizza near me, order pizza online near me, best pizza, order pizza at dominos, order a pizza online dominos, order pizza delivery online, home delivery, Romeos Pizza Menu, order a pizza online Romeo, Domino Pizza