Val Day: Lagosians Describe Romeo's Pizza As Bite Of Happiness
Anyone who says that money cannot buy happiness has clearly never spent their money on pizza. That was the views of Lagosians who trooped out to Romeo's pizza outlets in Lagos to celebrate the last Valentine's day.
Anyone who says that money cannot buy happiness has clearly never spent their money on pizza

Romeo's Pizza Editorial Team
According to them, Romeo's pizza is a bite of happiness, adding that the quality of Romeo's pizza cannot be compared with any other pizza in the state.
They said that it is Romeo's pizza that gave them the real taste of pizza.
Okechukwu Ekezie who took his family to Romeo's pizza outlet at Adeniran Ogunsanya Surulere said that before the coming of Romeo's pizza to Nigeria, what they were eating was the fried flatbread.
He said that whoever doubts what he said should buy the other pizza from the other companies and keep it overnight to see what would happen to it.
According to him, the pepperoni pizza that is sold in Quick Service Restaurants in the United States is of the same quality as what Romeo's pizza is selling here in Nigeria.
He said that apart from the pizza being of very high quality, they are also pocket friendly.
His words, "I want to commend the owners of Romeo's pizza franchise in Nigeria for the quality of the pizza. Before they opened in Nigeria, what we were eating as Pizza was fried flatbreads with onions and tomatoes on top. It is Romeo's pizza that is giving Nigerians the real pizza that is made of pure cheese and other essential ingredients. Apart from the fact that their pizza is of very high quality, it is also very affordable."
Contributing, Gbenga Busari who was also in the outlet with his family said that he had long ago stopped eating pizza, because of the poor quality of what was on sold then.
However, he said that it was a colleague of his who told him of the berth of Romeo's pizza in Nigeria and since then it has become part of his family menu.
Romeo's pizza currently operates three outlets in Lagos State.
The outlets are located at
Admiralty Way in Lekki Phase,
Adeniran Ogunsanya in Surulere and
11 Road Junction by First Avenue Festac Town.
Are you planning a time out at a food restaurant or date night at a food restaurant —especially on Valentine's Day! Here is what you need to do, you could either place a call through to order online or walk into any of your favorite restaurants. And if you asked us our favorite meal to share? Pizza, of course! Luckily, Romeo's Pizza NG is offering a special kind of pizza deal just in time for February and Valentine's special. They're cheesy, delicious, and prepared with love!
Check out our pizza deal for February 2022 below.
Order Online, Walk-in, Takeaway, or Pick up, whatever you decide, Romeo's Pizza outlets in Lagos is ready and patiently waiting to serve you and your loved ones so that you can all enjoy and share in the "bite of happiness".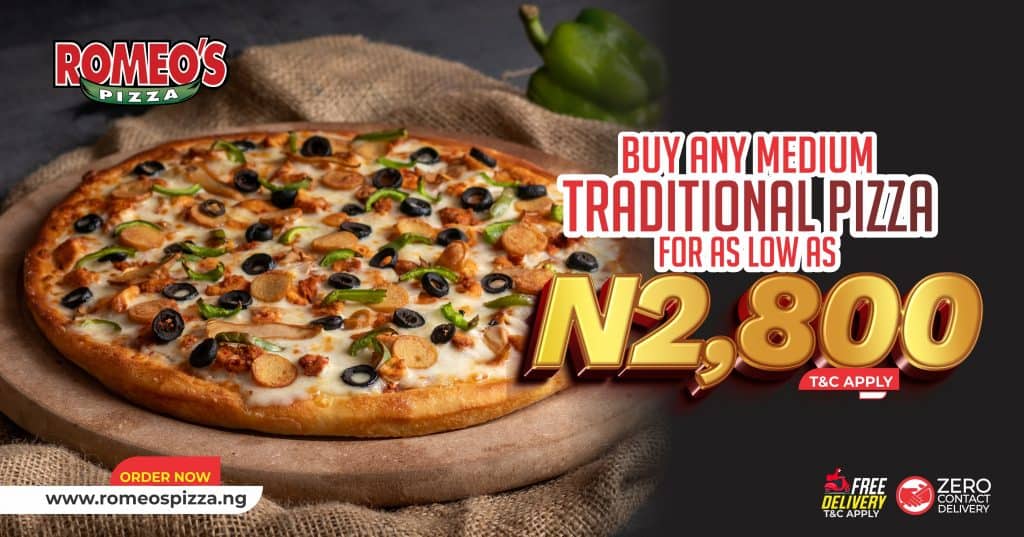 Best Valentine's Day Restaurant Deals | Best Valentine's Day Food Deals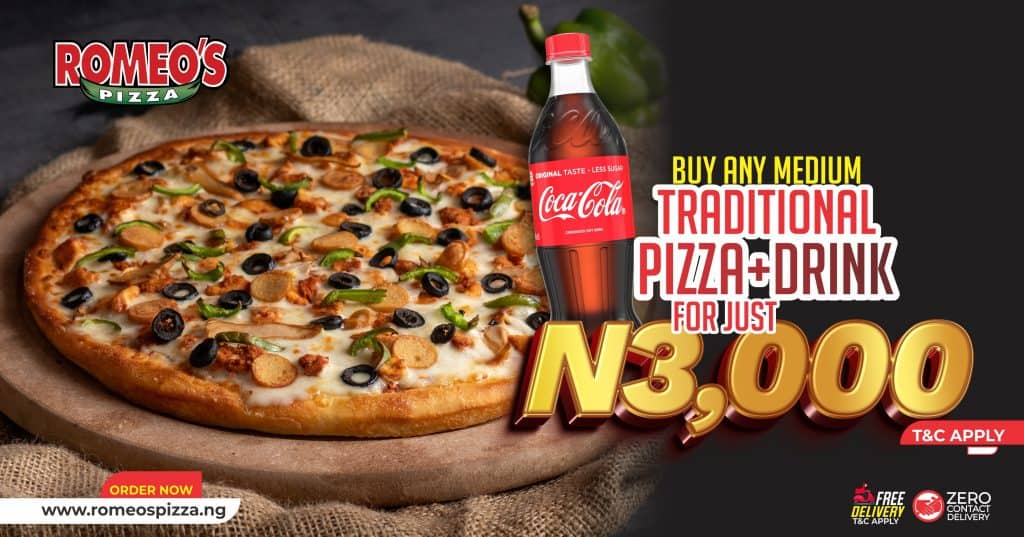 Order Now >>
Best Valentine's Day Restaurant Deals, Best Valentine's Day Food Deals, Romeos Pizza Nigeria – Pizza Delivery Near You. Pizza deals near your, Pizza Promo, Pizza Delivery Shop, Pizza near me, Pizza shop near me, order pizza online for delivery, pizza, take away, take away food, domino's, pizza delivery, pizza online, order pizza online, order pizza, order pizza near me, order pizza online near me, best pizza, order pizza at dominos, order a pizza online dominos, order pizza delivery online, home delivery, Romeos Pizza Menu, order a pizza online Romeo, Domino Pizza